DIS Group's "Lit Lace" Project Featured at Dutch Design Week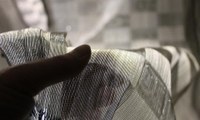 Publication date: 2020-10-15
Lit Lace, a collaborative project between the CWI's Distributed & Interactive Systems Group (DIS) and the British Smart Fabric Designers Company Sara+Sarah is being featured in this year's Dutch Design Week (17-25 October 2020).
The lace, woven from a combination of traditional thread and light-carrying fibres is lit from the edges using an array of tiny LED lights, allowing the lace to change colour and pattern as required. The project developed user-interface technologies based on the DIS group's Igor Internet of Things architecture to allow the materials to be used in theatre productions, where the cloth becomes part of the standard theatre lighting set-up.
The project was partly funded by the EU's WORTH Partnership Project, and came as a result of an earlier symposium on Smart Textiles and Soft Robotics organised by DIS with the Royal College of Art, the UK's leading art and design university.
More Information: