Tong Xue, Jie Li and Pablo Cesar Awarded Best Demo Award at ACM IMX 2020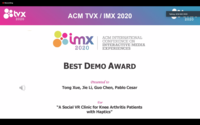 Publication date: 2020-06-23
On June 19th 2020, the demo paper "A Social VR Clinic for Knee Arthritis Patients with Haptics" authored by Tong Xue (CWI, BIT), Jie Li (CWI), Guo Chen (IBM Research, Beijing) and Pablo Cesar (CWI) was awarded the Best Demo Award at the ACM International Conference on Interactive Media Experience (ACM IMX) 2020. The demo was presented remotely, through a social virtual reality (VR) platform called Mozilla Hubs.
Social virtual reality (VR) invites multiple users to interact in a shared immersive environment, which can be potentially useful for remote personalized healthcare. This demo presents a social VR clinic that allows patients to consult a nurse represented as a virtual avatar. It offers a "walk-in" virtual surgery room, enables patients to interact with animated virtual 3D artifacts, and train the patient to use an injection tool while wearing a pair of mechanical VR gloves that provide haptic feedback (SenseGlove, https://www.senseglove.com). The demo shows the potential of social VR as a new tool to help patients receive remote personalized medical care.
This work is part of the H2020 VRTogether project (https://vrtogether.eu), which aims at improving remote media consumption and communication by innovating in volumetric video capture, delivery and rendering. The social VR clinic is one of the project exploitation activities targeting the healthcare domain.
The ACM International Conference on Interactive Media Experience (ACM IMX) is the leading international conference for presentation and discussion of research into interactive media experiences. The conference brought together international researchers and practitioners from a wide range of disciplines, ranging from human-computer interaction, multimedia engineering and design to media studies, media psychology and sociology.
More information: